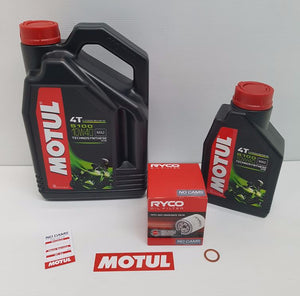 Motul Oil Change Service Kit - Mazda 13B & 20B Turbo
Regular price
$169.00
Or 6 payments from $28.16
What's this?
Vehicle service kit for the home mechanic for the vehicle models below which will enable you to service your vehicle yourself using quality products.

Vehicle Make: Mazda
Model: R100 RX2 RX-2 RX3 RX-3 RX4 RX-4 RX5 RX7 RX-7 BATMAN 323 626 COSMO
Engine: Fuel injected Turbo 12A, 13B or 20B Wankel rotary

Perfect oil for standard, modified or ported turbo rotary engines.

Service kit comes with the following

1 x 4 litre pack of Motul 5100 10w40 engine oil
1 x 1 litre pack of Motul 5100 10w40 engine oil
1 x Quality Ryco z436 oil filter.
1 x Windscreen service label
1 x small Motul rear window sticker
1 x Sump plug washer

5100 ESTER 10W-40 maintains stability & ensures less friction even at extreme temperatures or under heavy loads. With its extreme pressure additives.

Semi-synthetic, Technosynthese which contains ester which also includes special additives that reinforces internals for high revving engines. Reduces noise and wear.
We do service kits for all makes & models of vehicles. Please inquire if we don't have a service kit for your model.
---
More from this collection